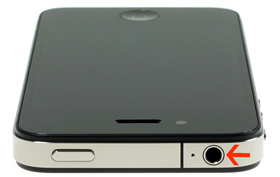 Is your headphone jack not working properly or at all? Do you know why? How long has this been happening? Don't worry, you can be sure we will fix it. At NYC iPhone Repair, we commit ourselves to providing exemplary repair services for iPhones in the New York City metropolitan area. NYC iPhone Repair is here if you need iPhone headphone jack repair in NYC.

Music is refreshment for the soul. That is why many of us seek the best experience that our means can afford for us. And that is why the iPhone's music system is, intentionally, one of the most advanced in the world of smartphones, giving you a rich variety and quality of almost all you can want in the form of music, much more advanced than the experience offered by its rivals. But if headphones fail to work properly on your iPhone, you end up with a less than satisfactory experience or none at all if they fail completely. And the lack of quality music on an iPhone can be a really unwelcome setback, for music is one of its main fields of excellence. If you have a broken headphone jack in NYC, call us.

NYC iPhone Repair handles virtually all problems which may affect iPhones, including faulty headphone jacks. We have a competitive edge in NYC head phone jack repair due to a number of reasons:
We provide professional and trustworthy services which are guaranteed to leave your phone functioning as it was before the problem started.
We have some of the most professional staff in the industry with several years of experience handling various Apple iPhone issues.
Our services are trustworthy and guaranteed to work.
If your headphone jack isn't working properly, even after testing with different headphones and earphones, then it needs to be repaired. All you need to do then is get in touch with the trusted staff here at NYC iPhone Repair.
Our prices are some of the most competitive in the entire city, considering the quality of our workmanship. So should the headphone jack of your iPhone 4, 4s, 5, 5s or any other model not be functioning well, just find a way of getting it to the nearest NYC iPhone Repair, where our skilled technicians will embark on finding a lasting solution to the problem, to give you back the amazing music experience which iPhones are known for only too well. Choose us for NYC iPhone headphone jack repair solutions. We can assure you that you won't be disappointed in the result. Headphone jack repair in NYC is a call away.