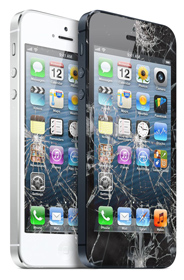 iPhone 5 repair in NYC is affordable here! We are the most trustworthy shop for broken iPhone 5 screens in New York City.

At present, iPhones are just some of the latest products which provide lots of irresistible functionalities to users and have literally thrust themselves to the very center of our lifestyle. Needless to say, iPhone 4, 4s, 5, 5s, 5c models are purchased at a price that can certainly hurt your pocket; for this reason, in case you need to have them repaired, it is very imperative to trust only a repair service firm which has expert technicians who can do the repairs excellently and affordably. Our NYC iPhone 5 repair service is highly regarded in the NYC metro area. The service is easy to take advantage of if you are in Columbus Circle, Alphabet City, East Harlem, East Village and Hudson Heights, amongst other neighborhoods. If you're an iPhone owner, we advise you to keep NYC iPhone Repair's contact information and give us a call in case you encounter some problems with your pricey device.

In addition, we are well-known for its ability to provide residents with very efficient, affordable, fast and reliable New York City iPhone 5 repair service. Through our services, you can rest assured that you will be provided with the best iPhone 5 repair in NYC which covers various aspects of your smartphone. Our cell phone repair company handles repairs such as:
iPhone 5 shattered or cracked glass
Broken cracked screens
Water damage repair
Data recovery
Digitizer and front glass repair, charger, LCD and battery replacements
Etc.
Apart from the NYC iPhone 5 repair services, we also offer repair and maintenance services for other iPhone models such as 4, 4s, 5s, and 5c. If there comes a time when you feel that you need well-skilled technicians to diagnose the cause of your iPhone 5's malfunctioning, then you don't need to have second thoughts of calling NYC iPhone Repair. Many repair service firms nowadays charge very expensive service rates; but you can always count on us for very manageable rates. We provide various service guarantees and you do not have to worry about any hidden costs.
As a trustworthy iPhone repair service firm for years, we understand the fact that our clients consider their personal assets as very valuable to them and with that we only allow highly trained technicians to handle your iPhone 5 repairs with the greatest care. We complete minor repairs in just minutes and major repairs are usually completed within hours. Give us a call now and get your free estimates. We are very confident to tell you that with us your satisfaction is guaranteed. Choose us if you need iPhone 5 broken screen repair in NYC or anything else.