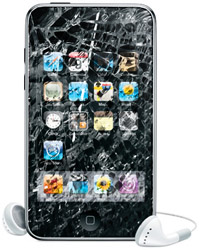 iPod Touch repair in NYC is affordable with us. Many things can happen to your iPod touch. Some of them aren't really what you would want to happen. But they do happen anyway. However, if any damage happens to your stylish iPod touch, you can count on NYC iPhone Repair. We will repair it for you, restoring it to its optimum performance levels, creatively and innovatively recreating your world after a setback. Call us for NYC iPod Touch repair solutions.

Powerful, innovative, revolutionary. These best describe Apple's iPod touch. Built only too well for the world of music, this gadget packs in as much as is needed to surround you with a world of the best music, all just a touch away. Too light to be noticed, too thin to take space, the iPod is the epitome of design, oozing of expert craftsmanship from every corner. With fast processors, all the way up to A5, the iPod touch gives you all you need in the world of music, entertainment, gaming and surfing, supported on a most intuitive and powerful platform. With its innovative iSight camera, it goes even further to give you content to share on social media, content which is of the highest quality and impeccable clarity.

That is why any damage on it might be quite a blow, and why we are here, to set the problem straight. If the screen is cracked, we will replace it with a new, equally clear one. If a button is malfunctioning, we'll give it a tweak or replace it, and it will work again. If the earphone jack doesn't pass you the good sound, NYC iPhone Repair will make it belch out as much as it should. If the camera gets damaged, we'll find a way to take the clear pictures it's meant to. iPod Touch repair in NYC is so convenient with us. Let us handle your iPod Touch broken screen repairs in NYC.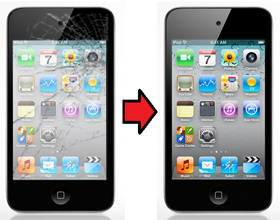 The NYC iPhone Repair technicians work fast and professionally, with the knowledge that the disruption needs to be cleared as fast as possible so you can go back to enjoying the world of entertainment. By putting their best into each repair job, they do it as though it were the only one, providing you with the personalized care and service, tailored to the specific problem you are faced with. With our specialization in Apple products, you can be sure we have a background of successful repairs on all kinds of these products, and your damaged NYC iPod touch will receive repairs backed by a lot of experience and skill.
NYC iPhone Repair will charge no more than is necessary for our services because we value our customers. We are here to give you quality services, and our prices can't therefore be outrageous. Come to us and experience the best prices in town for the highest quality of NYC iPod Touch repair work you can obtain.
Our location is conveniently located for those traveling from a variety of areas, such as:
Union Square
Times Square
Hudson Yards
Tribeca
Little Italy
Etc.
Give us a call today if you need iPod Touch repair in NYC! iPod Touch screen repair is as convenient as ever with us.