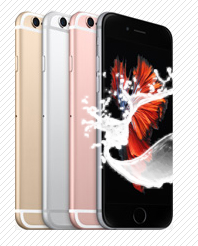 If you are already dealing with something like a broken iPhone 6s screen but didn't purchase the necessary coverage to ensure you don't have to pay for the damage, bring it to our experienced professionals.
Why us?
We offer cheap rates, experienced experts and quality replacement parts, to name just a few benefits to using us. We keep ourselves up to date on all of the latest devices, so we know right off the bat that many people have charging and overheating problems with the iPhone 6s. We are convenient and offer flexible appointment times so you can get the job done right away.
Solutions include:
LCD replacement
iPhone 6s screen replacement and repair
Camera repair
Battery replacement

Water damage repair
Digitizer repair
Home button/power button/volume button/lock button repair
And more!
Whether you need a free price estimate, or advice on what to do if you are dealing with iPhone 6s water damage, call us. We would be more than happy to help you out. Ask us any questions that you might have.

Call us for NYC iPhone 6s repair services you can count on.