iPhone 4 repair in New York City can be found right here.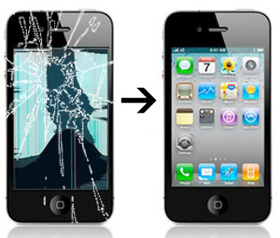 The fourth generation iPhone has a distinctive design and a very unique look. Apart from its square-ish shape, it also has a glass on both the front and back panels. At NYC iPhone Repair, we can provide you with various iPhone 4 repair services in NYC. The iPhone 4 is the fourth generation iPhone model and incorporates numerous parts including the display assembly, the battery, cellular antennae, home buttons, power buttons, lock buttons, camera, panels and many other parts. NYC iPhone Repair provides and replacement services for various iPhone 4 parts. In case, you're having problems with your iPhone, we recommend that you do not try to fix it yourself to avoid further damage. It is certainly a smart decision to have it touched only by the experts. This is especially true if you are dealing with delicate parts such as LCD screens, digitizers, or even the front and back panels which require some basic workmanship to restore to them to great condition.
Since high-tech devices are quite costly to invest in, and fixing them by yourself may be more risky primarily because you do not have sufficient knowledge to provide the best solution to the problem and needless to say, you do not have the necessary tools to fix them. We will surely take care of whatever issues you're experiencing with whatever iPhone model you have.
The common issues with the iPhone 4 comprise of water damage, accidental dropping, and unintentionally being sat on or stepped on. Admittedly, all these incidents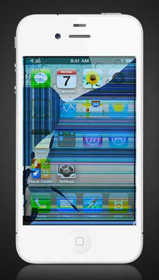 may cause your pricey device to lose its function. Our repair shop employs well-skilled technicians and is well-known in providing very fast and reliable repair service at a budget-friendly rate. Indeed, clients may also take pleasure in their free-of-charge gadget checkup and you may also be provided with accurate estimates. We are proud to share that our customers are very satisfied with our wide range of repair services and they are guaranteed to have their NYC iPhone 4 repairs done in (usually) minutes.
Our company is deemed as one of the most reputable mobile phones services since we can cater to almost all kinds of repairs such as:
battery and charger replacement
iPhone 4 front glass and digitizer repair
LCD replacement
Water damage repair
iPhone 5, 4S 3GS repair
Data recovery and more.
Moreover, we welcome our customers to wait for minutes while we do the repairs or our clients may just drop off the device and come back to pick it up after it's repaired. We provide our customers with a guarantee, too. NYC iPhone Repair is a perfect choice if you're looking for a superb iPhone 4 repair service in New York City.